GREAT AWAKENING REPORT •  June 2021 • Volume IV • Chapter VI 
FAUCI FUNDED WUHAN BIOWEAPON, WHAT'S HAPPENING IN RED STATES, THE EXTRATERRESTRIAL REALITY
2021 Summer Of Change Inbound, Perfect Economic Storm Forming, COVID 3rd Wave, China War Rhetoric, The Fourth Turning, New Quantum Financial System, Riots Rage in MN, Three Gorges Dam Disaster, Record Global Volcanic Activity, Vaccine Spike Proteins, Nephilim Giants, Disaster Cycle Evidence, 2YR Old Genius, June Energy Update
---
 
Tucker Carlson: Uncovered Emails Show Fauci Supported 'Grotesque' Experiments at Wuhan Lab
Emails obtained by BuzzFeed via the Freedom of Information Act show Dr. Anthony Fauci lied about the origins of COVID, the effectiveness of paper masks and more.
By
Children's Health Defense Team
In the segment below on last night's "Tucker Carlson Tonight," Fox News commentator Tucker Carlson said evidence shows Dr. Anthony Fauci has been "implicated in the very pandemic he had been charged with fighting."
Emails obtained by BuzzFeed via the Freedom of Information Act show "Fauci supported the grotesque and dangerous experiments that appeared to have made COVID possible," Carlson said.
The emails, which date back to the early winter of 2020, show Fauci was worried the public would think COVID originated at the Wuhan Institute of Virology in Wuhan, China. Why?
"Possibly because Tony Fauci knew perfectly well he had funded gain-of-function experiments at that very same laboratory," Carlson said.
The emails show Fauci and other top virologists shared an article from ZeroHedge suggesting COVID was a man-made bioweapon. Despite it being a "plausible explanation," said Carlson, ZeroHedge was banned from social media.
Breaking Down Fauci Emails | Glenn Beck
Glenn Beck breaks down the recent Dr. Fauci scandal, explaining WHY his recently released emails are so damning. Not only do his correspondence disprove the theory he was being censored by the Trump administration, but they eliminate any credibility he may have once had on the COVID pandemic, too. Even further: they confirm he lied under oath. The mainstream media may want you to think he's 'Mother Theresa in pants,' but these emails tell a MUCH different story. So, is it finally time to #FireFauci?
---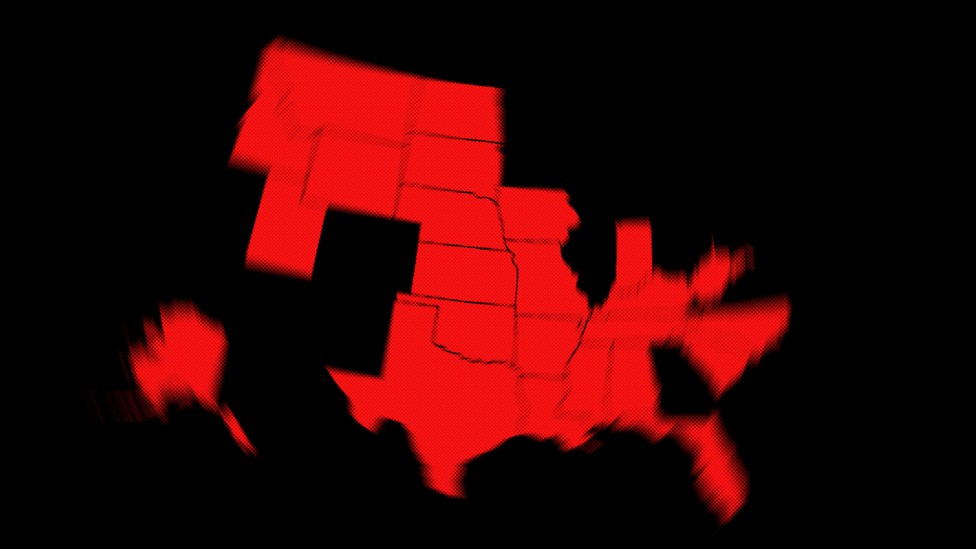 Watch What's Happening in Red States
In states where Republicans control the legislature, American life is rapidly changing.
It's not just voting rights.
Though this year's proliferation of bills restricting ballot access in red states has commanded national attention, it represents just one stream in a torrent of conservative legislation poised to remake the country. GOP-controlled states—including Florida, Tennessee, Georgia, Texas, Arizona, Iowa, and Montana—have advanced their most conservative agenda in years, and one that reflects Donald Trump's present stamp on the Republican Party.
Across these states and others, Republican legislators and governors have operated as if they were programming a prime-time lineup at Fox News. They have focused far less on the small-government, limited-spending, and anti-tax policies that once defined the GOP than on an array of hot-button social issues, such as abortion, guns, and limits on public protest, that reflect the cultural and racial priorities of Trump's base.
In part, this sharp right turn reflects a conscious backlash against unified Democratic control of Congress and the White House. Jessica Anderson, the executive director of Heritage Action for America, one of the country's foremost grassroots conservative groups, told me that right-leaning voters have shifted more of their effort toward red states because they realize that they currently have no chance of advancing their causes at the national level. But the push, she added, also reflects a determination to elevate social and cultural issues that Trump stressed, after the GOP's congressional leadership had generally downplayed them in favor of economic priorities such as cutting taxes and regulation. "You can make the argument that the work at the state level is a rebuttal or a critique of too much of the GOP leaving this stuff behind," she said. "Trump said it matters."
The lurch right in Republican-controlled states extends to some economic issues: Nearly two dozen states, for instance, have rejected the increased unemployment benefits that congressional Democrats approved earlier this year in President Joe Biden's stimulus plan. But the social and racially tinged issues that Trump moved to the center of GOP messaging have dominated legislative sessions in state after state. Among the issues advancing most broadly:
Half a dozen states, including Tennessee, Montana, Iowa, and Texas, have passed legislation allowing gun owners to carry their weapons without a permit.
Texas, South Carolina, Idaho, and Oklahoma have passed legislation banning abortion when a fetal heartbeat can be detected, after about six weeks of pregnancy (before women typically even know they are pregnant); Texas, Oklahoma, and Arkansas also passed virtually complete bans on abortion. Arizona approved an extremely restrictive bill that includes barring abortions for certain genetic conditions.
Ten states have adopted about two dozen laws in total targeting transgender individuals, including legislation in seven states that bars transgender athletes from competing in school sports. In the U.S., "2021 has officially surpassed 2015 as the worst year for anti-LGBTQ legislation in recent history," the Human Rights Campaign, an LGBTQ-advocacy group, recently concluded. "States have now enacted more anti-LGBTQ laws this year than in the last three years combined."
Through mid-May, "14 states have enacted 22 new laws with provisions that make it harder for Americans to vote," and many other laws are still pending, according to the Brennan Center for Justice at New York University Law School. "At this rate," the organization wrote, "the United States is on track to far exceed its most recent period of intense legislative activity to restrict the vote—2011." More red states may join this push: After a walkout by state House Democrats blocked a restrictive Texas voting law this week, Governor Greg Abbott announced that he would call a special session to pass the law later this year.
Florida, Oklahoma, Texas, and about half a dozen other states have passed laws stiffening penalties against demonstrators who block traffic or cause property damage, and several of those states have simultaneously provided civil or criminal protection for drivers who hit protesters, according to a tally by the International Center for Not-for-Profit Law.
Tennessee, Oklahoma, and Texas have barred public schools from teaching "critical race theory," which focuses on racism as an endemic feature of American history. Florida Governor Ron DeSantis is moving to prohibit it through a ruling by the state board of education.
Florida, Georgia, and Texas have all passed laws penalizing local governments that cut funding for their police department. One of the measures approved in Texas stipulates that a county looking to cut police funding must first win voter approval through a referendum—but would apply only to counties with a population of 1 million or more, almost all of which lean Democratic.
Over the past year, several red-state governors have issued executive orders or signed laws barring local governments from mandating the use of face masks or limiting local businesses' hours of operation; Florida and Tennessee have passed laws barring local governments or businesses from requiring residents to show proof of a COVID-19 vaccination. Restrictive voting laws passed in Georgia and proposed in Texas explicitly outlaw measures used to increase voter turnout in the states' largest cities (Atlanta and Houston, respectively).
This surge of polarizing legislation is being driven largely by a combination of confidence and fear. Many observers believe that Republican legislators feel emboldened after Democrats in the 2020 election failed to record the state legislative gains they expected. In 2018, as part of the recoil from Trump, Democrats made significant gains in state legislatures, winning control of six legislative chambers and netting more than 300 seats nationwide, many in the white-collar suburbs of major metro areas. But despite unprecedented investment in local races, and Biden's win at the presidential level, the party did not flip any additional chambers last year; Republicans, on net, gained back about half as many seats as they had lost two years earlier and came out of the election with control of both legislative chambers in 30 states, compared with just 18 for Democrats (with one additional state divided and Nebraska officially nonpartisan).
---
UFO Intelligence Report | Fake Alien Invasion
TRUTH UFO DISCLOSURE AND THE SECRET HiSTORY OF THE MELLON BANKING FAMILY! #DarkJournalist #UFOs #JohnWarner #Disclosure EXCLUSIVE INTERVIEW WITH JOHN W. WARNER IV PART 1 Plus Rare Never Before Seen Photos! THE BREAKTHROUGH WE"VE BEEN WAITING FOR! John W Warner IV joins Dark Journalist, Daniel Liszt to do a deep dive on his family's Deep State roots as the son of Legendary Virginia Senator John W. Warner III (R-VA), former Secretary of the Navy and Chairman of the Armed Services Committee (KBE), who sadly passed away on May 25th, ​and Mellon Banking heiress Catherine Mellon, daughter of philanthropist Paul Mellon (U.S. Army, OSS, CIA, KBE). WARNING OF A FALSE CIA UFO INVASION PSYOP Warner tells us that his cousin, Former Defense Intelligence Official Chris Mellon, was carefully chosen to stage-manage a false UFO Threat narrative and that his bizarre pairing with Counterintelligence Agent Lue Elizondo shows that the Deep State is desperate to pull off a massive covert operation.
A major effort to keep the Wall of Secrecy on Advanced Technology in place in order to hide the UFO reality from the public is being orchestrated by CIA and DIA officials trying to make it appear that Mellon and Elizondo are whistleblowers after decades of working in intelligence circles. REVELATIONS FROM A SENATOR'S SON Warner also reveals that his father encouraged him before he died to pursue the truth at all costs and was deeply concerned about keeping America free in the face of massive secrecy by black ops that are buried inside in the government.
The Senator also revealed to his son that his activities in Operation Deep Freeze in ANTARCTICA were actually related to COVERT SPACE OPERATIONS! MEDIA PROMOTING FEAR OF UFOS Warner exposes how the media has fully supported this false UFO Threat operation along with shady politicians like Senator Marco Rubio and Harry Reid. He sees that the media under orders to keep the fear atmosphere going with the a looming UAP Task Force report coming up in June. Warner believes we must dismantle the false UFO Threat operation and reveal the real UFO truth for America and the World THE MELLON BANKING FAMILY SECRETS He also goes into stunning detail about his mysterious grandfather Paul Mellon who engaged in Secret Intelligence work and kept the company of corrupt CIA director Allen Dulles.
Paul's wife Mary Mellon was a spiritual idealist who brought Carl Jung to the attention of the world and who met G.I Gurdjieff and studied Mystery Schools like Rudolf Steiner's Anthroposophy. Her early death from Asthma in the 1940s led Paul Mellon to turn further to the dark side with help from CIA Occultist Dulles. NAZI ROCKET SCIENTIST WERNHER VON BRAUN Warner reveals the unknown relationship of Nazi Rocket Scientist Wernher von Braun to his family and his cousin Chris Mellon. Warner also reveals never before heard details of his powerful family and their place in the elite world of banking and the aristocracy along with rare anecdotes of Hollywood legend actress Elizabeth Taylor who was married to his father for 6 years and his Mother's early interest in UFOs.
---
New intelligence News Update
---
Here's a look back at our Weekly Briefings from the month:
---
Thank you to our readers and paid subscribers for your continued support!  If you would like to further support the Great Awakening Team and our efforts, you can donate or buy something from the Great Awakening Store.
We offer both Personal Coaching and Consulting for executives and business owners. Providing guidance, intelligence briefings, and strategic planning to navigate the dynamic changes and shifts in the world.
– The Great Awakening Team
---
---
---
Featured Documentaries
---
Inspirational
Arts • Universe • Travel
---
2020 Presidential Election Audits
CCP Global Insurgency War
---
Global Awakening
"Is it a coincidence the Matrix (movie) grew people as a crop, used them for energy, and controlled their minds? Sound familiar? I wonder where they derived that idea from.  Now comes the 'conspiracy' label; the deeper we go, the more unrealistic it all becomes.  The end won't be for everyone. That choice, to know, will be yours."
**CLICK TOPIC HEADINGS BELOW TO EXPAND SECTION**
SUBCATEGORIES: DEEP STATE / ALLIANCE NEWS • GLOBAL ECONOMIC • INTERNATIONAL MONETARY SYSTEM
SUBCATEGORIES: ARCHAEOLOGY • ANCIENT TEXT • REAL U.S. HISTORY
Cosmic Disclosure
**CLICK TOPIC HEADINGS BELOW TO EXPAND SECTION**
SUBCATEGORIES: NEW SCIENCES • ADVANCED TECHNOLOGIES • SECRET SPACE PROGRAM
SUBCATEGORIES: GALACTIC ENERGY CLOUD • GALACTIC FLASH • ASCENSION
SUBCATEGORIES: CONSCIOUSNESS • MANIFESTATION • FORGIVENESS
WATCH LIST

2nd American Revolution, the fraudulent presidency of Joe Biden & Kamala Harris, US Military's Plan to restore the Republic of the United States, where Trump is reinstated as the 19th President of the Republic of the United State.  The Great Reset plan to Reset the Global FIAT Currency vs. the Gold Reset backed Currency.
COVID Third Wave is the Global Vaccinations used as a cover story for the Great Reset. Key to launching the Deep State's New World Order and Plan 2030 depopulation agenda.
Event Waves of 2021; New potential Wave of Vaccine-related Pandemic death rates, and vaccine-triggered medical conditions will expand exponentially. This is targeted for the fall of 2021 with a now reported estimate of 60% to 70% of all vaccinated with be hospitalized and die from complications stemming from the vaccines. WWIII global hot spots, Ukraine, Iran, Syria, Middle East, and North Korea. Threaten Financial Markets on the edge of Collapse/Crisis/Crash, and the US defending its borders against insurgents from foreign states. The next series of stacking or event compression could be anyone's guess; ranging from WWIII, new global Plandemics, a 3rd Covid 20/21 Wave, massive  death rates from vaccine complications, destroying global markets, debt bubbles bursting, and AI Cryptocurrency manipulations used for human trafficking being wiped out in a few moments. Then in the background the escalating global crisis of droughts, flooding, creating global famines, food shortages, 70 – 100 million unemployed, massive loan defaults, record foreclosures, geophysical events increasing, volcanos, earthquakes, category 5 hurricanes, record numbers of violent storms, tornadoes along with mainstream media stoking suppression of these events raising fear to new heights.
2021 Predictions;  WILL BE THE YEAR OF DISCLOSURES, MINI ICE AGE OF EXTREME COLD AND SHORT BUT INTENSE SUMMER HEAT, WORLDWIDE POLITICAL CIVIL UNREST, RACE RIOTS, AND REVOLUTIONS, NEW REPORTS OF GLOBAL UPHEAVALS CAUSED BY INCREASED SOLAR ACTIVITY, HUGE EARTHQUAKES, and a MEGATHRUST EARTHQUAKE, CAUSING TSUNAMIS, FLASH FLOODS & MASSIVE MUDFLOODS, POPE WILL RESIGN OR STEP DOWN, STRANGE SKY SIGHTINGS, UNUSUAL ANIMAL BEHAVIOR, MASSIVE UFO SIGHTINGS WORLDWIDE, METEORS FALLING, MYSTERIOUS BOOMS CONTINUE,  AND POSSIBLE ASTEROID HITTING EARTH, NASA MAKING SHOCKING DISCOVERIES IN SPACE, A STAR WILL GO SUPERNOVA AND LIGHT UP THE NIGHT SKY, MARS AND MOON REVELATIONS, TRUMP'S CONFIRMATION AS THE 19TH PRESIDENT OF THE REPUBLIC OF THE US DELAYED. THE NAVY REVEALS MORE ABOUT UFOs, AND UFO INTELLIGENCE REPORT RELEASED DATE OF JUNE 24TH, EXCITING HEALTH BREAKTHROUGHS. MAJOR PROBLEMS CONTINUE WITH CHINA, IRAN, NORTH KOREA, AND SYRIA. 2021 WILL BE THE BEGINNING OF THE BIBLICAL 7 YRS OF TRIBULATION, WHICH REPRESENTS UPHEAVALS AND TRANSFORMATION.
2021 World Predictions / Ralph Smart; More Covid 19 Rules and Restrictions with Personal Choices, Social Restrictions, Global Restrictions and Restrictions in Personal Movements, biometric testing, airports are going to be testing centers (negative certificate). Mandatory FaceMask the new normal, Social Distancing Extremes. US State Border Restrictions (certificates, driver's licenses in state of entry). Civil War between the Blue States vs the Red States, Blues States will look to secede from the US after the 2020 elections.
There will be No Vaccine Offered that are 100% effective or completely cure for the Covid 19 Virus (the plan is not to provide a vaccine cure). Boost your immune system naturally with Vitamin C and supplements.
Many Global Governments Around the World will Collapse. Mass Protests and Riots (people will take back their autonomy). Global Deep State Exposure, Destruction, and Demise from the World Stage.
Fear will take on a new meaning of extremes and stress levels. FEAR definition – False Evidence Appearing Real! Covid 19 Police Officers will be instituted into society. We must detach from the Matrix. Lifting & Removal of the Veil of Deception across the Earth in 2021.
Resistance Movement will grow stronger and en masse. Children will be removed from school. Social Distance will negatively impact children. Awakening will expand across the globe.
Great Separation or Split from 3D to 5D. Awakened leaving the cities and their communities for rural environments, a new level of awakening around the world. We will seek and reflect Love Frequency. 
Fake Food Crisis – they are now setting up the world for a fake food shortage. Stock up on food and water. Garden Tower Farming all vegetables will be required to survive.
Fake Alien Invasion – as the new life forms make their presence known, the cabal will stage a False / Fake / Staged Invasion. Current soft disclosure of UFOs is happening now in the MSM news report. NYT's article reports the soft disclosure of UFOs is leading us to a Fake Alien Invasion.
New Strains of Covid 19 or SARS H1N1 will be released onto the whole world and will be staged. These Strains are bioengineered weapons that will be more lethal and cause other medical conditions.
Covid 19 Mental Issues from virus infections. We must prepare to manage all aspects of the effects for 2020. Meditation/Calmness.
People Leave Social Media Platforms em Masse / Conscious App is on the way.
Frequent Internet Blackouts or Multiple Blackouts Every Month. Cell phones will be blacked out, too. Must save your contact information to make local calls.
New 5D Earth for the Chosen Ones (World without Gov, Military, Big Pharma, no media, tv, cell phones, no fears, and a higher vibrational frequency). A New Prison for those who remain unawakened.
The Future is in What We Are Creating In the NOW or PRESENT.
Let LOVE Guide You, NOT Fear.
New Senate Hearings & Witness Testimony; Senate Judiciary panel votes along party lines Thursday to authorize subpoenas targeting more than 50 mostly Obama Administration people involved in the decision to begin investigating President Trump's 2016 campaign over potential links to Russia. The subpoenas are part of a larger GOP effort to question the investigations into Trump, which culminated in the appointment of special counsel Robert S. Mueller III and consumed the early years of his presidency.

Internet and Social Media Alternative News Censorship & Lockdowns continues to reach new levels across all platforms. Google, FB, and Twitter. Look for President Trump, the DOJ, and 30 plus US State AG's to file class-action and anti-trust lawsuits in Federal Courts.
New Earthquake swarms on the West Coast increase predictions for the Cascadia Subduction Zone and New Madrid Fault Line. New Government Reports on the increase in midwest earthquakes and oil fracking effects. A Russian scientist has issued a new prediction for the US to experience a 9.0 earthquake in 2019.
UFO Disclosure is heating up focus on disclosure in April, as daily sightings are being reported by US Navy and Airforce pilots. There is insider talk of a Fake Alien Invasion set for October? Timing is tied to change the MSM narrative upon negative breaking events; FISA Declass, Clinton Foundation, Comey IG Report, etc. Nick Pope reviews all the evidence.
Antarctica continues to reveal more anomalies and evidence of advanced civilizations. Disclosure of Pre-adamites going back 55,000 to 65,000 years ago. Testimony suggests well-preserved cities and advanced technologies.
Facebook whistleblower blows the lid-off in a newly released Mark Zuckerberg Dossier. Sighting abuse of the child prodigy using MK-Ultra techniques, and a controlled asset of Larry Summers President of Harvard, Financial Advisor to President Clinton, connected to DARPA and CIA programs.  Sheryl Sandberg assistant to Summers, COO of FB, and Mark's direct handler inside FB.
Update / DOJ John Durham's release of indictments and arrest warrants will be delayed until 2021. Comey got a pass from AG Barr on leaking classified information to the press but will be indicted and prosecuted for multiple criminal violations dealing with his signing off on 4 FISA requests. This will begin the process of disclosing SpyGate, ClintonGate, ObamaGate, BidenGate, etc., and all of its conspirators.
The Structure Change / Alliance Exposure Mass Corruption Now Ready to be Revealed to the General Public, starting with an economic crisis now in progress, closing the Federal Reserve/Central Banking  System, voter fraud in key Congressional & Senate seats, FBI & DOJ false Russian collusion, and the release of 300 pages of the Carter Page FISA redactions will lead to the much greater exposure of the Obama Administration's corruption, treason, and evil practices from the Deep State/Shadow Government.
Mass Arrests total 220,248 + Sealed Indictments, 35 US Judicial Districts (increases in indictments averaging 5,000 a month) Has been increasing at a rate of 25,000 per month since 2017.
Continued Mass Global Resignations 15,734; Government Senators & Congressmen, Fortune 500 CEOs, numerous Board of Directors, and Banking Execs.
CIA blocks Legislation to release sealed 911 documents, exposing the Deep State inside job. Trump will unseal 911 documents after the 2020 elections.
Remaining Sealed CIA Kennedy Assassination Papers to be released, along with 911 Saudi Arabia collusion docs & Pearl Harbor papers from WWII, now scheduled to be released in 2021.
Rouge Planetary System moving through our Solar System, bringing CME's, Planet X Solar System, Nibiru, Meteorite Showers, EMP, Alien SpaceCraft Sighting,  Closings of Planetary Observatories, questions regarding New Mexico's Observatory
Increasing Global Geophysical Volcanic & Earthquake Activity, Hawaii, Pacific Rim, Latin, and South American, Antarctica (Galactic Energy Waves increasing Sun's activity)
Global Geomagnetic Storms increase in larger magnitude CME's from Sun (The 1000x Galactic Flash in the nearest star system Alpha Centauri was recorded by NASA)
Global Weather: 2019 escalating Droughts, Hurricanes, Sahara Sand Storm, Heat Waves, Rising Oceans Levels, Flooding, Solar System Planetary Climate Change, Chemtrails / Terraforming, HAARP Weather Wars.
Health & Wellness: Truth About Cancer, The Plant Paradox, Plandemic documentary, Covid-19 Vaccines, Truth About Vaccines, Big Pharma Industrial Complex.
Earth History: 3,000 Global Pyramids, the cover-up of Ancient Giant skeletons by the Smithsonian Institute, Ancient Civilizations Ruins discovered between 1,000 to 6,000 feet below Sea Level.
Disclosure: Secret Space Programs, 10 Programs, DOD $6.5 – $21 trillion missing. Partial vs Full Disclosure, Alliance agreement as to Solar Warden partial disclosure.
Science/Technology: Department of Defense suppression of 6,000 patents, reversed technology, antigravity, warp drive, zero-point energy, cures for all diseases, age regression, replicators (all foods/clothing/metals, etc.)
NASA: Plasma Energy Cloud, Energy Waves, Galactic Flash, 26,000 Year Grand Cycle
The Path of Awakening: Global Mass Meditation, Jared Rand participant count now over 500,000 worldwide.