Published Date: August 31st, 2020
WEEKLY REPORT
TRUTH///AWAKENING///DISCLOSURE
TRUMP LEADS IN POLLS, THE GREAT RESET, COVID 19 WORST MISCALCULATION IN HISTORY
Germans Outlaw Vaccine Protest, Global Wildfires Raging, AI Funding 1 Billion, Biblical Global Famine, Take Back Our Schools, Buffet Buying Gold, Corporate Bankruptcy's Soaring, MGM Fires 18,000 Employees, CCP Policies Failing, California Fires Escalate, RFK Jr. Vaccines & Fluorides, ET Military Insider Testimony
---
DI Poll: Trump Leads Biden Nationally, Key Battlegrounds
President Donald Trump (Carolyn Kaster/AP)
A new poll predicts a landslide victory for President Donald Trump this November.
Trump leads Democratic presidential nominee Joe Biden by 3 percentage points in the latest Democracy Institute/Sunday Express poll 48%-45%, with pollsters predicting Trump will rout Biden in delegates, 309-229, as the president holds a lead over the former vice president in the swing states of Florida, Iowa, Michigan, Minnesota, Pennsylvania, and Wisconsin.
"Although Biden remains in a competitive race with Donald Trump, and may well do so until election day, his support isn't growing," said Democracy Institute director Patrick Basham, who believes Biden has already hit his "high watermark."
"And, tellingly, almost all of the issues that matter most to voters are trending in President Trump's favor."
Thirty-seven percent of Americans surveyed by DI said law and order was the top political issue, while 27% said they were concerned about the economy and keeping their current job or getting a new one.
"In any political campaign, there's a moment that tells you which way the electoral wind is blowing," Basham told the Express. "That moment arrived on Wednesday. Joe Biden restated his support for peaceful protests but, crucially, condemned the violence that has come to dominate the monthslong nationwide protest movement.
"When a candidate changes his tune three quarters of the way through a race, it is not because he knows he holds a winning hand.
"He does so because the electoral ground is shifting beneath his feet."
Polling by DI has previously predicted both the 2016 U.S. election and Brexit.
The Express did not publish the poll methodology, but noted DI polling has tended to be more favorable to the president than most U.S. media polls.
REPUBLICAN NATIONAL CONVENTION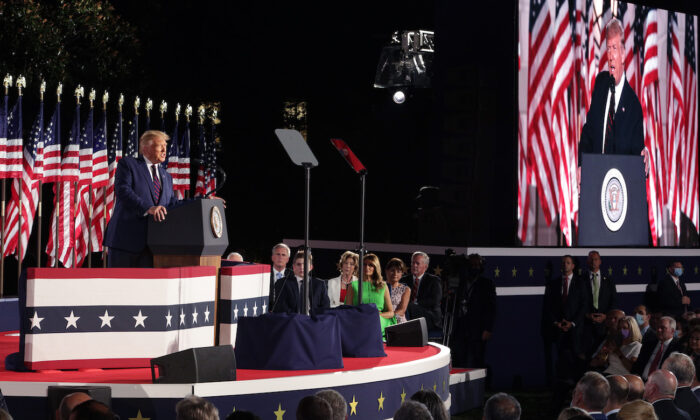 RNC Draws 147.9 Million Views, GOP Says It's Higher Than Biden
The Republican National Convention (RNC) had 147.9 million views across various TV and digital platforms, according to Chairwoman of the Republican National Committee Ronna McDaniel.
She posted the data on Friday in a Twitter post confirming a media report. The spokeswoman also said that the total viewership of the RNC was 25 million more than the Democratic National Convention (DNC).
According to Nielsen ratings data, about 86.3 million viewers from 66.9 million households watched the DNC event on TV spanning from Aug. 17 to 20. While 77.5 million viewers from 57.8 million households watched the RNC between Aug. 24 and 27.
Based on the GOP statement and Nielsen data, the RNC drew 70.4 million digital viewers while the DNC digital viewership was 36.6 million.
The Democratic party or Biden's campaign didn't release total digital ratings data officially. However, Biden campaign's national press secretary TJ Ducklo said in an Aug. 18 Twitter post that 28.9 million people watched the fourth night of the DNC.
Based on data posted by Ducklo and Nielsen, the digital viewership of the fourth night of DNC should be around 4.3 million.
The Epoch Times could not independently verify the DNC's digital ratings from all four nights released by the Republican party.
DNC CONVENTION / Biden campaign didn't respond to an email request for comment.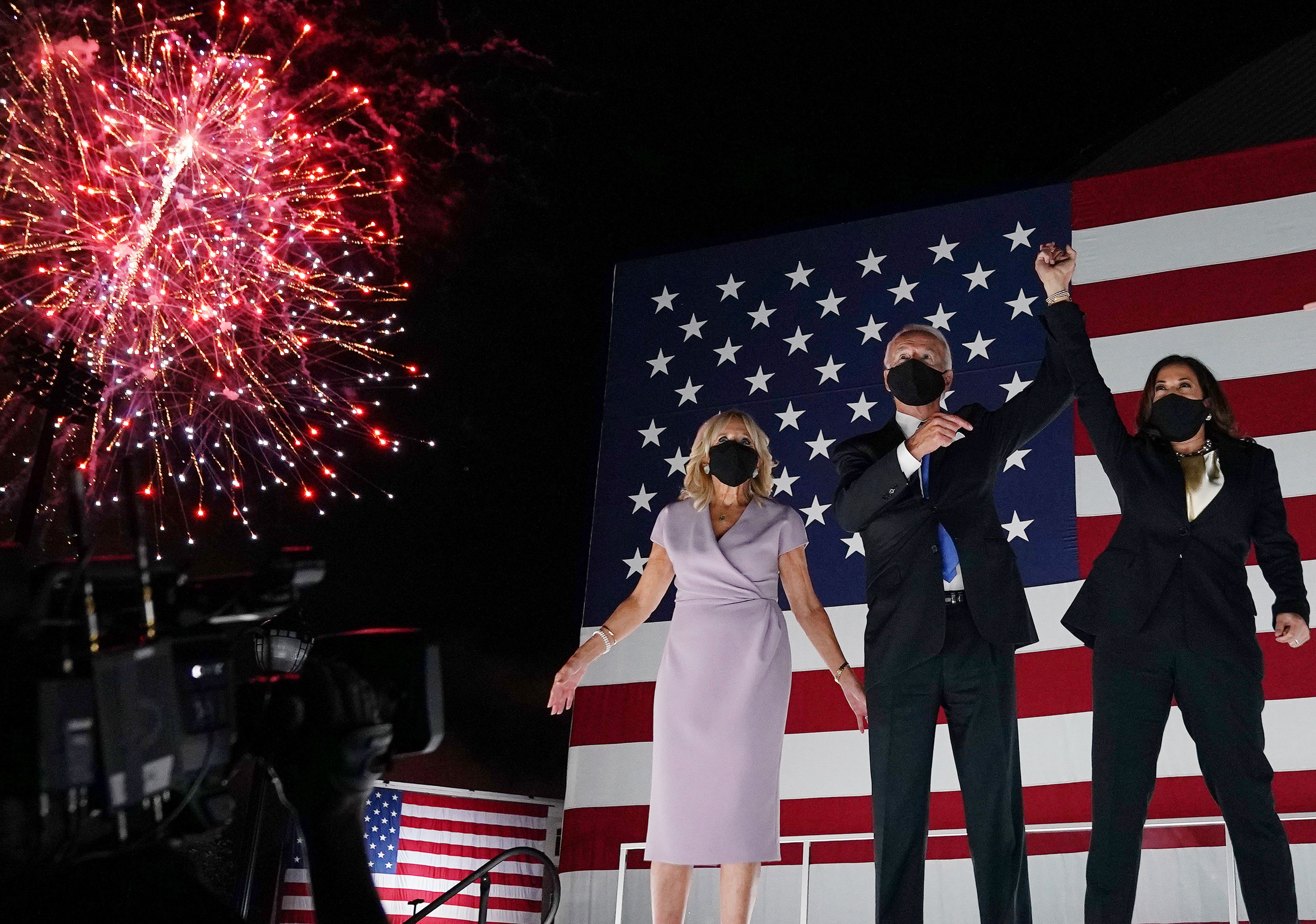 It was widely reported that the DNC had better TV viewership than the RNC before the Republican party released the official digital viewership data.
However, digital viewership became a core area for dispute in the ratings comparison.
The Republican party and Trump rebutted reports, citing a lack of digital data.
"How does the Fake News not include Online Streaming Numbers where Republicans blow the Dem Numbers away?" President Donald Trump said in a Twitter post on Friday night.
The 2020 Republican National Convention - Republican National Convention
August 24, 2020 | Charlotte, North Carolina REPUBLICAN NATIONAL CONVENTION 00 Days : 00 Hours : 00 Minutes : 00 Seconds Welcome to the official website of the 2020 Republican National Convention! Marcia Lee KellyPresident and CEO2020 Republican National Convention Dear Friends, This resource will…
---
A Breakdown Of 'The Great Reset' And The New World Economic Order
World Economic Forum: The Institution Behind 'The Great Reset'
In a recent article I briefly examined a number of advances that global planners made prior to the World Economic Forum's announcement in June of a new initiative dubbed 'The Great Rese…
---
COVID-19 Fatality Rate "Worst Miscalculation" in Human History – PhD Student in Epidemiology
IN BRIEF
The Facts:Ronald B. Brown, Ph.D., from the the University of Waterloo in Ontario, Canada says, based on his research, that the coronavirus fatality rates we were/are given represents "Worst Miscalculation in Human History."
Reflect On:Why do perspectives and evidence that are presented in this article never see the light of day in big media? Why are we beamed with a specific perception/narrative when so much other information and data clearly opposes it?
What Happened: Ronald B. Brown, Ph.D., from the School of Public health and Health Systems at the University of Waterloo, Canada, recently stated that the COVID-19 fatality rate is the "worst miscalculation in the history of humanity." Brown is currently completing his second doctorate degree this time in epidemiology at the University of Waterloo.
Not long ago, Brown published a paper in Disaster Medicine and Public Health Preparedness, titled "Public health lessons learned from biases in coronavirus mortality overestimation."
In the paper he provides data and information he collected from his research, he compared informational texts from the World Health Organization (WHO) and the Centers for Disease Control and Prevention (CDC) to data from independent scientists and Congressional testimony. He states that "Results of this critical appraisal reveal information bias and selection bias in coronavirus mortality overestimation, most likely caused by misclassifying an influenza infection fatality rate as a case fatality rate."
Below is a statement Brown recently gave to John C. A. Manley, a journalist who was the first to cover the story:
The subject of this article is disruptive, to say the least, although it is not as obvious from the title. The manuscript cites the smoking-gun, documented evidence showing that the public's overreaction to the coronavirus pandemic was based on the worst miscalculation in the history of humanity, in my opinion. My manuscript underwent an intensive peer-review process. You are the first media guy who has responded to my invitation.
Dr. Brown added that CDC and WHO documents show that the case fatality rate for influenza was similar to the coronavirus, implying that the lockdowns were pointless. His paper questions why the 2017-2018 influenza season in the United States did not "receive the same intensive media coverage as COVID-19."
He points out that "the accuracy of coronavirus tests rushed into production during the pandemic were unknown." And he explores how the media began focusing on an increase in coronavirus cases while ignoring the decrease in death rates.
The Bulgarian Pathology Association has taken the stance that the testing used to identify the new coronavirus in patients is "scientifically meaningless." They cite an article explaining the science. You can read more about that here.
More than 500 German doctors & scientists have signed on as representatives of an organization called the "Corona Extra-Parliamentary Inquiry Committee" to investigate what's happening on our planet with regards to COVID-19, expressing the same sentiment. They came together to investigate the severity of the virus, and whether or not the actions taken by governments around the world, and in this case the German government, are  justified and not causing more harm than good.
You can access the full english transcripts on the organizations website if interested.
This group has been giving multiple conferences in Germany, in one of the most recent, Dr. Heiko Schöning, one of the organizations leaders, stated that "We have a lot of evidence that it (the new coronavirus) is a fake story all over the world."  To put it in context, he wasn't referring to the virus being fake, but simply that it's no more dangerous than the seasonal flu (or just as dangerous) and that there is no justification for the measures being taken to combat it.  You can read more about the story here. 
Another example would be a recent report published in the British Medical Journal  has suggested that quarantine measures in the United Kingdom as a result of the new coronavirus may have already killed more UK seniors than the coronavirus has during the peak of the virus.
Reported case fatality rates, like the original official 3.4% rate from the World Health Organization, caused horror, panic and hysteria and were also meaningless.
Many scientists and doctors in North America are also expressing the same sentiments. For example, The Physicians For Informed Consent (PIC) recently published a report titled  "Physicians for Informed Consent (PIC) Compares COVID-19 to Previous Seasonal and Pandemic Flu Periods." According to them, the infection/fatality rate of COVID-19 is 0.26%. You can read more about that and access their resources and reasoning here.
SHOCK REPORT: This Week CDC Quietly Updated COVID-19 Numbers – Only 9,210 Americans Died From COVID-19 Alone – Rest Had Different Other Serious Illnesses
So get this straight – based on the recommendation of doctors Fauci and Birx the US shut down the entire economy based on 9,000 American deaths to the China coronavirus. 
We were first to report that the Director General of the WHO on March 3, 2020 a set off the panic with his highly flawed statement:
While many people globally have built up immunity to seasonal flu strains, COVID-19 is a new virus to which no one has immunity. That means more people are susceptible to infection, and some will suffer severe disease.

Globally, about 3.4% of reported COVID-19 cases have died. By comparison, seasonal flu generally kills far fewer than 1% of those infected.
TRENDING: SHOCK REPORT: This Week CDC Quietly Updated COVID-19 Numbers – Only 9,210 Americans Died From COVID-19 Alone – Rest Had Different Other Serious Illnesses
This statement caused a global panic.  We, however, knew it was wrong and we wrote about it on March 17, 2020. Here is the video of Dr. Ghebreyesus's remarks.
The WHO leader's coronavirus death rate number of 3.4% was false and we proved this in our post.
The Gateway Pundit reported, that the coronavirus fatality rate reported by the liberal mainstream media was completely inaccurate and the actual rate more like a typical seasonal flu – the media was lying again.
Doctors Fauci and Birx were next to push ridiculous and highly exaggerated mortality rates related to the coronavirus:
**Dr. Tony Fauci and Dr. Deborah Birx used the Imperial College Model to persuade President Trump to lock down the ENTIRE US ECONOMY.
** The fraudulent model predicted 2.2 million American deaths from the coronavirus pandemic
** The authors of the Imperial College Model shared their findings with the White House Coronavirus task force in early March
** Dr. Fauci and Dr. Birx then met with President Trump privately and urged him to shut down the US economy and destroy the record Trump economy based on this model
But the Imperial College model Dr. Fauci and Dr. Birx pushed was garbage and they recommended the destruction of the US economy using this model.
Today we now have empirical evidence that the WHO, Dr. Fauci and Dr. Birx were all wrong.  They were charlatans.  They lied.
The CDC silently updated their numbers this week to show that only 6% of all coronavirus deaths were related to the coronavirus alone.  The rest of the deaths pinned to the China coronavirus are attributed to individuals who had other serious issues going on.  Also, most of the deaths are related to very old Americans.
---

Unite For Freedom – Peaceful Mass Protest in Trafalgar Square, London 29th August 2020.

GAR Writer: Carol
On Saturday 29th August 2020, I attended the Unite For Freedom – Peaceful Mass Protest in Trafalgar Square, London.
I am a very private person. I love silence and revel in my own company but when this protest was announced and few like-minded friends suggested we go I knew I had to be there.
Since the quarantine in March of this year there has been a growing awakening to the true machinations of society because as the weeks have turned to months, the C -Virus narrative is unable to uphold itself.
We have real questions.
Why, when the death rate is at its lowest, are masks now mandated?
Are we really going to be forced to accept untested vaccinations in exchange for our basic freedom?
Why are health professionals with decades of expertise who risk their reputations and lives to challenge the narrative, vilified and censored?
How will we deal with the other casualties of this event – people losing jobs, businesses and homes. The unseen traumatic impact on the psyche of society – especially the children?
It has created division and additional isolation on top of the prescribed social distancing. Those who see the real agenda cannot unsee it and those who do not see it think we are crazy, irresponsible conspiracy theorists.
I can assure you we are not. We are caring concerned citizens desperate to save what we see as the stripping away of our human rights.
This is why it was so important to go.
The people who attended represented every section of society. Every age, colour, religion. Standing together in peace.
It was also interesting to see how it was reported in the mainstream media outlets, the ones that could be bothered to give the event any attention downplayed the numbers and upped the divisive language.
From the Guardian: 'It drew a broad coalition of protesters from across the country from those espousing causes such as opposition to the imprisonment of Julian Assange to so-called "anti-vaxxers" and advocates of 5G and QAnon conspiracy theories.'

There were at least 35,000 people in Trafalgar Square and the only arrest I was aware of- by police wearing masks for the first time in public – was of activist Piers Corbyn, brother of former Labour party leader Jeremy. He was fined £10,000 for organizing a gathering of more than 30 people. A 'law' conveniently only just brought into place.
Because of the 'discussion', I found myself involved in underneath my Facebook post of pictures and videos I had taken during the day. I decided to create a video and explain why I went. This seems like the only way to address the hysterical abuse people feel justified in hurling at you. Sarcasm and personal insults are not what we need right now.
We 'conspiracy theorists' feel an urgency. Ask us why we went there. Don't assume we are irresponsible murderers.
So was Unite For Freedom effective?
I left this protest inspired. I felt a shift in everyday people who were starting to discover the strength in their voice and witness the power that unity creates.
For people who want to label me crazy, selfish, irresponsible etc your words may sting for a second but cannot erase the memory of that event. I am sure everybody who was there – even those policing the event felt it too. We hugged. We chanted. We sang.
I believe that this is the Great Awakening.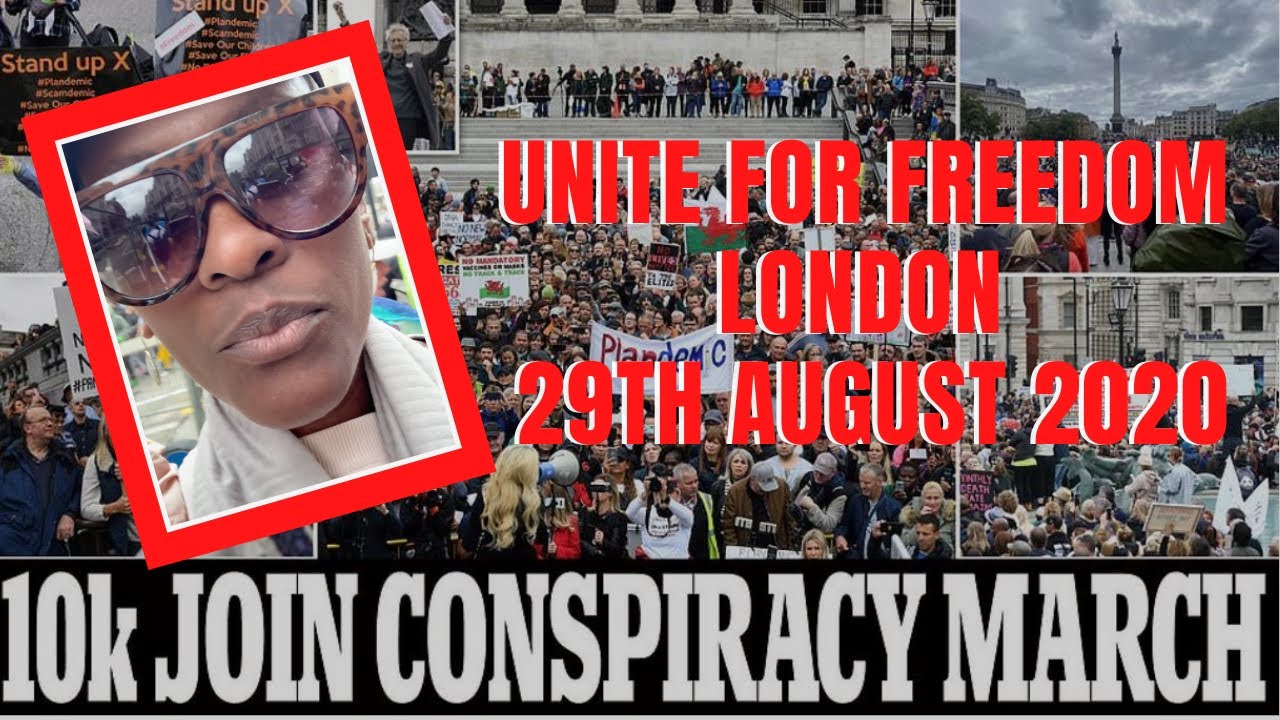 An Introvert Walks Into A Protest...Unite For Freedom, London 29th August 2020
I left this protest inspired. I felt a shift in everyday people who were starting to discover the strength in their voice and witness the power that unity cr...
This Week's Global News At a Glance
A wave of chaotic unrest broke out in Malmo, Sweden after anti-Islam activists filmed a public Koran burning, sparking protests that soon descended into riots, with unruly demonstrators setting fires and clashing with police. Some 300 people gathered along a main thoroughfare in Malmo on Friday around 7:30pm local time to protest after members of a far-right political party staged a Koran burning earlier in the day, according to local press reports. As the crowd grew, fires were ignited in the street and several cars were torched, prompting a heavy police response that struggled to bring the situation under control. "We have ongoing and violent riots right now that we have no control over," police spokesman Rickard Lundqvist told a local news outlet amid the disorder. Clashes erupted between protesters and law enforcement in Malmo's Rosengard district, seeing stones, paving bricks and fireworks hurled at officers and emergency response vehicles.
German Chancellor Angela Merkel has warned against politicizing the Russian-led Nord Stream 2 gas pipeline, saying that construction of it should be finished, despite US attempts to derail the energy project. "Our opinion is that Nord Stream 2 should be completed," Merkel said on Friday. She added that the project is of a purely economic nature and should not be linked to the situation with Russian anti-corruption activist leader Alexey Navalny, who is currently undergoing treatment in Germany after an alleged poisoning. The pipeline, designed to boost gas supplies to Germany and other European states by 55 billion cubic meters (bcm) per year, is currently nearing completion in the Baltic Sea. Russia had to dispatch its own vessels to lay the final kilometers of the route, after the Swiss-Dutch company Allseas withdrew its ships over the threat of US sanctions. "We are also against the extraterritorial sanctions that the United States of America has imposed," the German chancellor told reporters. The Trump administration has threatened to expand its measures against Nord Stream 2. US lawmakers want to target its investors, insurance companies, as well as Germany's Mukran Port on the Baltic Sea, where the construction vessels are stationed.
Raging wildfires in forests and grasslands are spreading in northern and central Argentina, with outbreaks in at least a dozen provinces. The Paraná Delta is experiencing its worst week since the beginning of the year, with fires stretching over hundreds of kilometres of grassland and wetland. Fires have also been seen in the north and centre of the country, with officials in Córdoba Province on Monday reporting evacuations and an "extreme risk" of further outbreaks in the coming days thanks to dry and windy weather. According to Reuters, at least 14,321 hectares (55 square miles) of grasslands and mountainous territory have so far been burned, mainly in the northern areas of Punilla and Ischilín.
Long months of a pandemic lockdown and economic crisis have revived a scourge that Chileans thought they had beaten forever: hunger. So the number of neighborhood soup kitchens has exploded in Santiago, and restaurants –– some of them gourmet establishments –– have lit up their stoves to whip up meals in solidarity. In Lo Hermida, a poor area in the east of the capital, nine women have formed a group known as "Las Guerreras" (Woman Warriors) to launch a soup kitchen that delivers 175 meals a day to the virus-stricken barrio's most needy. "I never thought it would be so necessary here," Ruth Lagos told AFP, adding that she was surprised by the shortages laid bare by the pandemic. Families in the gritty neighbourhood that lifted themselves out of poverty have lost jobs and been thrown back on the breadline under the lockdown. The women organised a supply network of ingredients and then set up a kitchen in the courtyard of a house. With no experience of cooking professionally, the women found inspiration in the history of the neighbourhood, when during the acute economic crisis of the 1980s in the midst of the Augusto Pinochet dictatorship, the community found solace in a similar burst of soup kitchen solidarity.
The United States, Europe and China have laid claim to billions of Covid vaccine doses that are nearing the finish line. That's sparked worries that poorer countries will be left behind and shots will be slow to reach many of the world's 7.8 billion people. After Covid-19's emergence in Buenos Aires led to a strict lockdown in March, Juliana Cassataro and her fellow vaccine researchers grew concerned. "We did not want to stay in our homes," said Cassataro, a scientist at the National University of San Martin in the nation's capital. "We wanted to use our knowledge to help in this pandemic." Determined to give Latin America its own protection from the fast-spreading virus, Juliana Cassataro's team – 10 women and two men – quickly got to work. A government grant of US$100,000 in May paid for initial studies, and human trials could start in about six months. The US and other superpowers have laid claim to billions of Covid vaccine doses that are nearing the finish line. That's sparked worries that poorer countries will be left behind and shots will be slow to reach many of the world's 7.8 billion people. Dozens of laboratories, researchers and companies from Thailand to Nigeria are bootstrapping their own work on inoculations.
Elon Musk has unveiled a working prototype for the Neuralink, a skull implant that can communicate with brain cells, seen as a breakthrough cure for an array of ailments for some, and a prelude to a nightmare dystopia for others. Musk's Neuralink progress update on Friday showed off a functional device implanted into a pig, which he says could someday cure a range of "important brain and spine problems," including memory loss, blindness, seizures, strokes and even drug addiction. "I'm really excited to show you what we've got. I think it's going to blow your mind," Musk said at the start of the presentation, comparing the device to "a Fitbit in your skull with tiny wires." After coaxing a skittish sow named Gertrude to leave her pen, Musk introduced what he called the "three little pigs demo," showing the Neuralink picking up the animal's brain activity in real time, represented by audible beeps. A second pig had a previously installed device removed, which Musk said illustrated how one could live a "healthy and happy" life after taking out the implant. The third animal had no device, presumably as a control.
Herbalife Nutrition will pay $123.1 million to settle criminal and civil charges it bribed Chinese officials in government agencies and media outlets to boost its business in China, the U.S. Department of Justice said on Friday. The multi-level marketing company, whose products include dietary supplements, entered a three-year deferred prosecution agreement in which it admitted to conspiring to violate the books and records provision of the Foreign Corrupt Practices Act, an anti-bribery law. Authorities said Herbalife schemed from 2007 to 2016 to bribe Chinese officials with cash, entertainment, meals and travel to obtain direct selling licenses, reduce government scrutiny and suppress negative coverage by state-controlled media. China accounted for 19% of Herbalife's $4.49 billion of net sales in 2016, up from 7% in 2006, regulatory filings show. Herbalife approved "extensive and systematic corrupt payments" to Chinese officials, while falsifying records to make the bribes appear as legitimate business expenses, Acting U.S. Attorney Audrey Strauss in Manhattan said in a statement. Last November, U.S. prosecutors filed related corruption charges against Yanliang Li, who led Herbalife's Chinese unit, and Hongwei Yang, who led its external affairs department. Both are Chinese citizens and remain at large.
Afghans pushed out of work by the coronavirus pandemic after businesses and schools were shuttered have turned to opium cultivation for cash during this year's poppy harvest. Afghanistan has long been the world's top grower of opium, producing more than 80 percent of the global supply and providing hundreds of thousands of jobs in the perennially cash-strapped economy. A coronavirus lockdown and travel restrictions saw trade grind to a halt and many businesses were forced to lay off staff, in a conflict-riven country where stable jobs are already rare. "Because of the coronavirus I lost my job. I have no other way but to work in poppy fields to make some money" a farmers said. Despite myriad eradication programs over the years, Afghan farmers continue to grow poppies with near impunity, as both government officials and the Taliban often profit from the lucrative trade.
Facebook says it has shared data with United Nations investigators probing international crimes in Myanmar, after the lead investigator said the company was withholding evidence. A Facebook representative told Reuters it had given the Independent Investigative Mechanism on Myanmar (IIMM) data from pages and accounts associated with the Myanmar military that it had removed in 2018 to stop hate speech against Rohingya but declined to describe the content. Myanmar is facing charges of genocide at the International Court of Justice (ICJ) over a 2017 military crackdown on the Rohingya that forced 730,000 people to flee into Bangladesh. Myanmar denies genocide and says its forces were conducting legitimate operations against militants who attacked police posts. The UN Human Rights Council investigators said Facebook had played a key role in spreading hate speech that fuelled the violence. In 2018, the company said it had removed 18 accounts and 52 pages associated with the Myanmar military, including the page of its commander-in-chief, but preserved the data.
The Trump Administration announced awards of more than $1 billion Wednesday for the establishment of 12 new artificial intelligence (AI) and quantum information science (QIS) research & development institutes across the United States.
Some of same Liberal and Progressive voices that tried to warn Democrats ahead of Trump's "shock" 2016 victory are at it again, starting with filmmaker Michael Moore, who warned in a Facebook post on Friday using all caps that enthusiasm among Trump's base is "OFF THE CHARTS!" Moore begged Biden-supporters and never-Trumpers to "ACT NOW!" Crucially, Moore had in the lead-up to the 2016 election been an almost lone voice on the left predicting a Trump victory, but was dismissed, laughed at and ignored at the time.