Published Date: November 11th, 2019
WEEKLY REPORT
TRUTH///AWAKENING///DISCLOSURE
OUTING CIA WHISTLEBLOWER, IRANIAN / US CORRUPTION DISCLOSURES, SECRET US MOON BASES
Mexican Cartel Ambush Mormans, Global Guided Meditation, 10,000 Arrested Paris Yellow Vest Protest, Gut-Brain Axis, Biden Family Corruption, FBI Entraped Flynn, The Cosmic Secret Documentary
---
REPORT SUMMARY
Epic! Mollie Hemingway Leaves Fox News Panel Stunned, Stuttering After She Drops Eric Ciaramella's Name on Fox News Live Broadcast (VIDEO)
Mollie Hemingway, a senior editor at The Federalist, left a panel of cowards on Fox News stunned and stuttering after she dropped Eric Ciaramella's name on a Fox News live broadcast.
We're surprised Fox News didn't bleep out his name because they recently bowed to pressure and vowed not to say the CIA snitch's name.
Everyone knows Eric Ciaramella is the CIA leaker who is trying to pass himself off as a whistleblower in order to remove Trump from office — Adam Schiff accidentally forgot to redact Ciaramella's name from Bill Taylor's transcript and outed him too.
Paul Sperry of Real Clear Investigations outed Eric Ciaramella as the 'whistleblower' and since then, only a handful of conservative websites have reported the truth and named Ciaramella.
The rest of the media are pathetic cowards.
Mollie Hemingway argued that the New York Times all but named the whistleblower in September. The Times revealed a lot of information about Ciaramella but didn't say his name.
"Real Clear Investigations has identified a man named Eric Ciaramella as the whistleblower so it's already out there so we could be talking about this reporting and talking about whether that's accurate reporting or not," Hemingway said. "So I feel a little bit confused about why we are pretending that it hasn't already been reported."
Fox News host Howard Kurtz immediately jumped in to "clarify" that he doesn't know if Ciaramella is the whistleblower.
Longtime Hillary Clinton aide Phillipe Reines chimed in and said, "I think that is the first time that his name has been mentioned on Fox News."
Howard Kurtz was left stuttering and slack-jawed as he was trying to do some damage control, saying he "doesn't want to speculate" if Eric Ciaramella is the whistleblower.
This is the media today — a bunch of cowards who won't report the truth.
As soon as Paul Sperry published Eric Ciaramella's name in a Real Clear Investigations report, The Gateway Pundit went into overdrive and dug up as much information as possible about Ciaramella.
TGP was even threatened by Facebook to have our entire page of nearly 650,000 followers unpublished because we posted Ciaramella's name and photo, but we never backed down to the pressure.
Thank you, Mollie Hemingway, for saying Eric Ciaramella's name live on Fox News!
BREAKING: Rep. Devin Nunes Releases Requested Witness List for Adam Schiff's Show Trial, Including Hunter Biden, Adam Schiff, Alexandra Chalupa, and Eric Ciaramella

DNC operative Alexandra Chalupa and whistleblower Eric Ciaramella
Rep. Devin Nunes (R-CA) released their witness list they sent to Rep. Adam Schiff for his impeachment show trial next week.
The list includes Adam Schiff, who plotted with the whistleblower before he filed his complaint. The list also includes DNC operative Alexandra Chalupa who worked with the whistleblower Eric Ciaramella in 2016, the whistleblower Eric Ciaramella, Hunter Biden, Nellie Ohr and Ambassador Kurt Volker.
Nunes sent the request off this morning.
Democrats do not believe the American public has the right to see the far left CIA whistleblower Eric Ciaramella.
They want to impeach the president and will not allow President Trump or his team to question the CIA leaker.
Of course, this goes against the US Constitution but Democrats don't care.
IRANIAN DISCLOSURES: Terror Shakes Deep State After Iran Comes To Defense Of Trump By Revealing They Have FBI Agent Able To Throw Hillary Clinton In Prison
A truly mind-blowing new report noting former CIA acting Director John McLaughlin having issued the ominous words to anti-Trump forces "Thank God For The Deep State" barely a fortnight ago while seated next to Obama's disgraced CIA Director John Brennan and fired FBI Deputy Director Andrew McCabe during a televised forum at the Brookings Institution, states that there is no doubt at all that all of these Deep State operatives are shaking in terror today after Iran broke its 12-years of silence to admit that they have in their custody FBI agent Robert Alan Levinson—a shocking admission Iran has just made to the United Nations in a filing stating: "According to the last statement of Tehran's Justice Department, Mr. Robert Alan Levinson has an ongoing case in the Public Prosecution and Revolutionary Court of Tehran"—and whose beyond enormous benefit to President Donald Trump lies in the fact that, in 2007, retired FBI agent Levinson was working for the CIA while conducting a secret mission in Iran when he was captured—after which, in 2009, then FBI Director Robert Mueller secretly accepted over $25 million from Russian billionaire Oleg Deripaska to gain Levinson's release in a deal worked out by FBI Deputy Director Andrew McCabe—a release deal Deripaska then personally worked out with the Iranians, and had his private jet in Tehran on the runway ready to fly Levinson back to the United States—was a release deal brought to then Secretary of State Hillary Clinton by CIA Director John Brennan and FBI Deputy Director Andrew McCabe because it needed her final approval—but which Secretary Clinton immediately denied—thus causing Levinson to remain in the secret custody of Iran—while Clinton confiscated for herself the millions-of-dollars given by Deripaska to FBI Director Mueller for the operation to secure Levinson's release.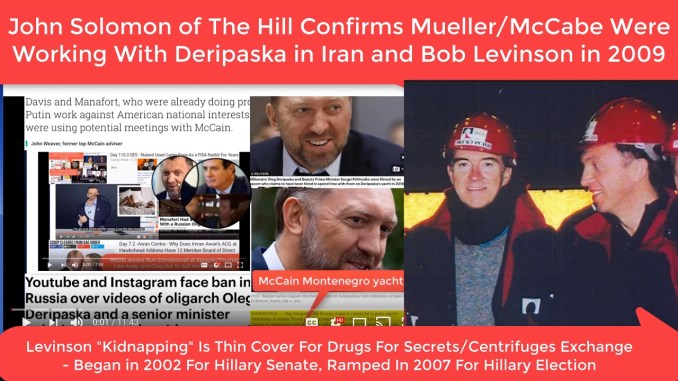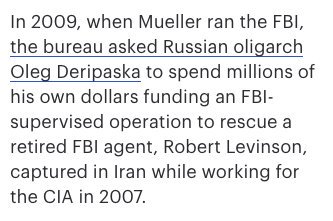 According to this report, with Russian multi-billionaire Oleg Deripaska having made a loan of $10 million to Trump campaign manager Paul Manafort that was never paid back, this amount of money lost, coupled with the millions-of-dollars stolen from him by Hillary Clinton when she confiscated for herself these monies meant to free FBI agent Robert Levinson from Iran, led to his issuing official appeals for redress in both Moscow and Washington—an appeal answered in May-2018 when the Security Council issued its report on this matter—which was sent to the US State Department and followed in December-2018 by Washington dropping all sanctions against Deripaska's companies—actions taken after it was stunningly discovered that the Obama regime had sent multiple pallets to Iran containing $1.7 billion in untraceable cash to insure that Levinson would never be seen or heard from again—but upon President Trump discovering the truth, saw him tearing up the Iranian nuclear agreement entirely—that Iran then followed by threatening to reveal everyone involved in this massive plot—that Trump countered by placing crushing economic sanctions against Iran—and that Iran has now cracked under as evidenced by their revealing to Trump that Levinson is alive—which now makes Levinson the most important bargaining chip in the entire world.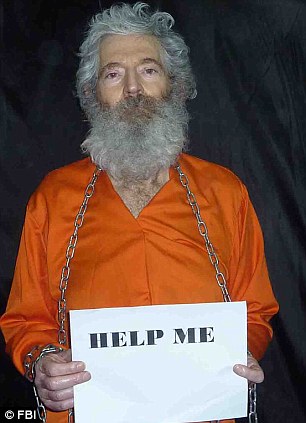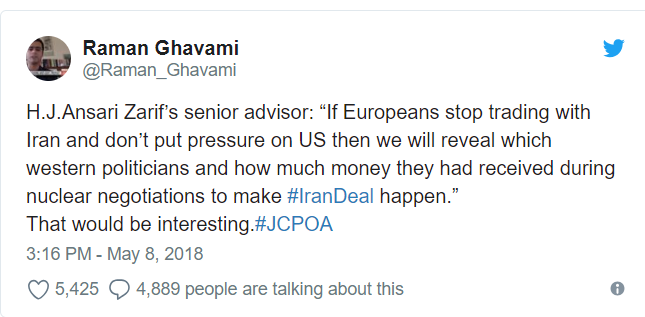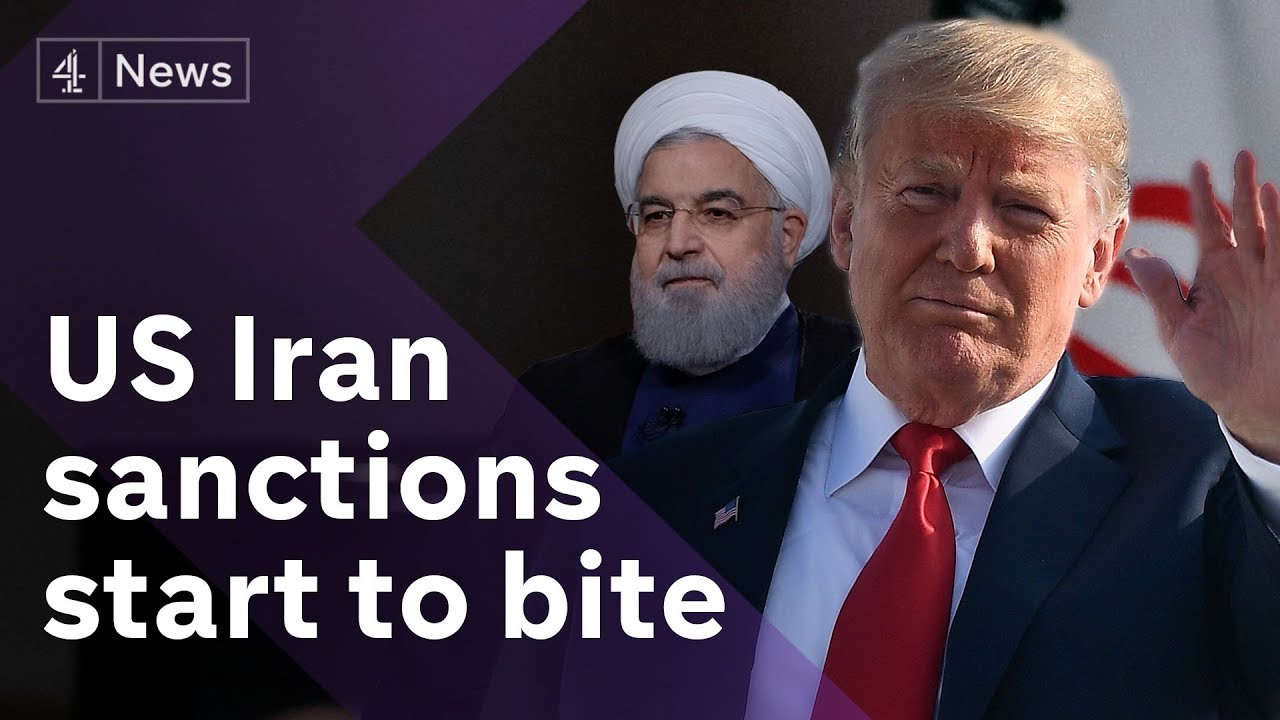 President Donald Trump crushes Iran in bid to free FBI agent Robert Alan Levinson so he can destroy Deep State forever
Coinciding with Iran's shock reveal that FBI agent Robert Levinson is alive and in their custody, this report concludes, Iranian President Rouhani announced "I inform the White House that, in the days that you have imposed sanctions on Iran's oil exports, workers and engineers of the country have discovered 53 billion barrels of in-place oil reserves"—one of the most massive oil discoveries in modern times able to enrich Western oil companies beyond all scope and measure to the tune of hundreds-of-billions-of dollars—but that Iran sandwiched with a warning that it would revise its nuclear doctrine if UN sanctions resume—thus setting the stage where President Trump's deal making abilities will determine not only the fate of Iran, the Deep State and Western oil companies—but also the future of the most feared FBI-CIA operative in history who has the secret knowledge and power to expose the crimes of Hillary Clinton, former CIA Director John Brennan, former FBI Director Robert Mueller and former FBI Deputy Director Andrew McCabe—along with countless other Deep State operatives—all of whom today, without doubt, are conducting searches on what countries they can flee to that won't extradite them back to the United States.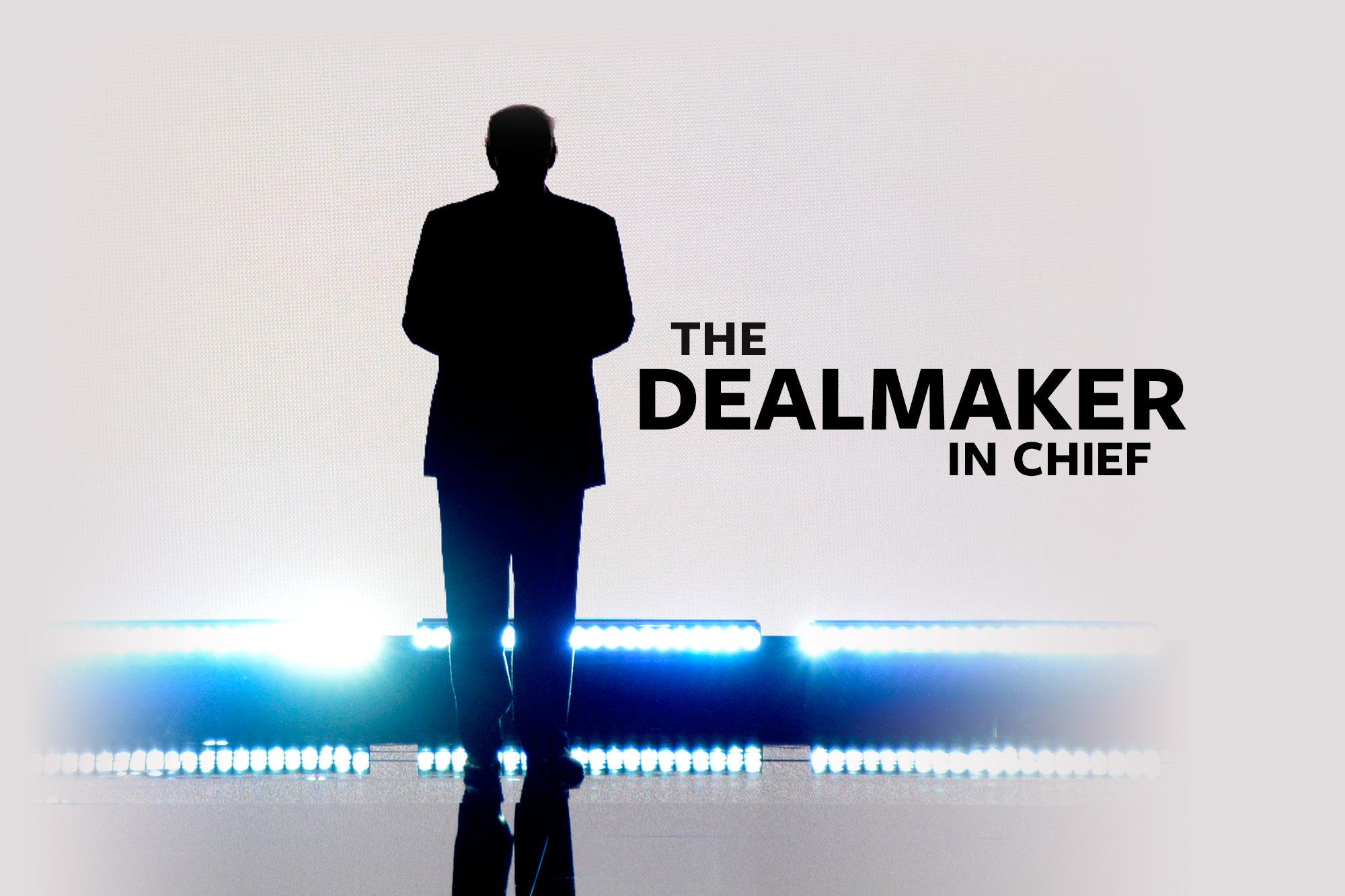 "The Iranians and Persians are excellent at the art of negotiation."
45th President of the United States Donald J. Trump
November 10, 2019 © EU and US all rights reserved. Permission to use this report in its entirety is granted under the condition it is linked to its original source at WhatDoesItMean.Com.
Secret US Moon Bases
A US government document that was released by WikiLeaks reveals the US had a base on the moon that the Soviets allegedly destroyed. I and CE founder Joe Martino explore not only the document but the overwhelming evidence that supports the idea that the US indeed had a base on the Moon and probably still does. We also explore the idea that we may not be the only ones up there. All documents and evidence of what we spoke about are linked in this detailed article for those who enjoy reading and want to access the documents that we reference in the video below.  To see the specific Wikileaks document we are discussing, you can click here.
The idea that something strange may be happening on the Moon is not far fetched at all. In fact, given all of the information that's now available within the public domain on the subject, it's hard to see how it's not a fact. Again, we go into a lot of that information in the episode below.
The episode goes into detail and looks at multiple documents found within the CIA's electronic reading room about bases on the moon as well, plans for building bases on the moon, and studies also showing there are existing structures on the dark side of the moon that may have been built by 'someone else.'
This Week's Report At a Glance
In a Wednesday data leak, the user "Antifa-data" posted an archived SQL database dump of the "neo-Nazi forum" Iron March which includes the usernames, email addresses, forum posts, private messages and IP addresses belonging to members of the self-labeled "Global Fascist Fraternity." Since the archive was published, individuals and organizations ranging from everyday netizens to journalists and law enforcement have reportedly accessed the database and have been using various methods to cross-reference and identify users.
On November 5, for the first time in 40 years, a pristine lunar rock sample was opened by scientists at NASA, the US space agency, in order to test new tools in advance of the upcoming Artemis missions.
American Airlines announced Friday afternoon that it would continue to ground its entire fleet of Boeing 737 MAX aircraft until March 5, 2020.
Brazilian Twitter erupted in response to an announcement that the former president of Brazil, Lula Da Silva, had been released from prison on Friday following an order by a federal judge.
Scotland and the northern regions of England have been hit by torrential rains, and flooding has swept entire districts, resulting in the issuing of continuous "danger to life" warnings and multiple travel advisories. Flooding has trapped residents who cannot move freely and are forced to sleep in shopping malls.
The French police have detained more than 10,000 supporters of the 'yellow vest' movement since its inception in November last year, the newspaper Le Monde reported.
US President Donald Trump would like to visit Moscow on May 9, 2020, to attend the 75th-anniversary celebration of the Soviet Union's Victory over Nazi Germany in the Great Patriotic War, as he himself said in response to a TASS question.
Outraged that Trump might attend the V-Day parade in Moscow, MSM gets history & Russia all wrong again.
A former senior manager at the French ministry of culture is on trial for spiking young women's drinks with diuretics to watch them urinate in front of him and with taking upskirt photos over a 10-year period, local media report.
Italy: Next January the reform that reduces the Members of Parliament from 915 to 600 would be enforced therefore the Senators are collecting signatures to hold a referendum that would block the new law.
Over a dozen Iraq protesters shot dead in the last 48 hours; Days into a government ordered internet blackout across much of the country, Iraqi security forces are in the midst of a new major crackdown on massive protests which have gripped the nation for over a month.
During the Second World War, Moscow was bombed 141 times. The main objective of Hitler's airstrikes was the Kremlin, but it suffered only eight attacks. The bombings caused much less destruction than expected. "In the first place, the masking of the Kremlin provided for camouflaging the fortress' bright elements, such as the ruby ​​stars, which were extinguished and covered with pieces of canvas; the golden domes of Ivan the Great Bell Tower and the cathedrals were also covered. In addition, both the Ivan the Great bell tower, the cathedrals and the buildings were painted in such a way that it seemed that it was not a single building. Streets and avenues were painted on those buildings". The Kremlin's walls and towers were also camouflaged.
The anti-Russian sentiment, which turns out to be a face-saving idea for the North Atlantic Alliance, is a specific sign of what French President Emmanuel Macron has described as NATO's "brain death," Russian Foreign Ministry Spokeswoman Maria Zakharova said.
Beijing has announced plans to develop 6G technology in the hope of cementing its supremacy in wireless connection amid a US-led crusade against Chinese companies over 5G networks.
The October climate protest cost the British Met Police £24m, but the High Court now says the ban that ended the 10-day action was unlawful, opening the way for up to £1m in compensation – cash that could be spent on future protests and legal cases.
Russia allocates 33 times less money to science from the federal budget than the US now, Chairman of the State Duma's Committee for Education and Science said.
Planet-hunter spacecraft captures Milky Way's southern sky in the stunning panorama. The NASA spaceship that's dedicated to scanning the galaxy for undiscovered worlds has captured our galaxy in stunning detail with a spectacular panoramic view of the southern sky. Video
Strongest EQ in Europe M4.8 Italy
Strongest EQ in US M4.9 Alaska
Strongest EQ on the Planet M5.8 Iran
Deepest EQ M3.2 231 km Italy
Strongest EQ in Europe M3.9 Azores-Cape St. Vincent Ridge
Strongest EQ in US M4.9 Alaska
Strongest EQ on the Planet M6.5 Fiji
Deepest EQ M6.5 582 km Fiji
Thank you to our readers and subscribers for your continued support.  If you would like to further help the Great Awakening Team and our efforts, you can donate, sign up for a paid subscription, or purchase something from the GAR shop.
– The Great Awakening Team
---
User Guide /// Our Positive Outlook /// The Big Picture  /// Overview – Summary /// Topic Descriptions /// Great Awakening Map /// Deep State Map /// Programming /// Article Classification
---
"Hot Topics"
---
Global Awakening
Global Trafficking & Corruption